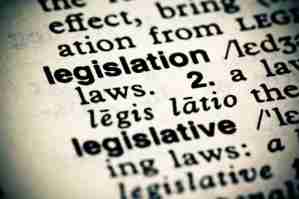 The objective of avoiding loss of lives and other industrial losses through accidents lead to follow the factory act regulation. For example Workman Compensation Act-1923 provides employer's liability for compensation. Compensation depend upon the condition that injury must have resulted either in death or partial disablement of an employee for a period acceding three days during employment and accident must have arisen out of and during employment. Factory act 1948 defines various terms of factories like manufacturing process, machinery, worker, power, prime mover etc. It lays down rules for fencing of machinery for safeguard nearby work and machinery in motion. Now a days, Indian factory act of 1949 is in force which presently also provides for a large number of regulations regarding safety for health of workers which include cleanliness, ventilation and temperature controls, humidity, protection against inhalation of dust and fumes, drinking water, overcrowding and proper locations for spittoons etc. This act also specify some important regulations with regard to the age of employees for specific nature of jobs and also their respective permissible working hours in a day, week and month in order to avoid excessive fatigue and ensure more safety. It also covers some additional regulations regarding welfare of workers, their overtime duties, wages, first-aid provisions and conditions of employment of young persons and women. All such provisions collectively contribute to safe working conditions in the factories. Beside above, various safety organizations in different parts of the world carry on regular studies and research in causes of accidents and the methods of their prevention. These organizations regularly issue their periodical bulletins in respect of their achievements regarding safety. These bulletins can be referred frequently for keeping in touch with the latest techniques and measures of safety. Few well known such organizations are Safety First Association of India, National Safety Council of U.S.A, International Labor Office, Geneva, Factory Department, Ministry of Labor, H.M.S.O., (U.K.), National Safety Council, Bombay, Industrial Health Organization, Kanpur, All India Institute of Hygiene and Public Health, Calcutta. Indian Council of Medical Research, New Delhi., Bureau of Indian Standards, New Delhi, World Health Organization, The Royal Society for tile prevention of Accidents (ROSPA) London., British Standards, Institution, London., Occupational Safety and Health Administration, Washington D.C, U.S.A., Bureau of Labor Standards, U.S.A, American Society of Safety Engineers, Commonwealth Department of Labor and National Service, Australia. Canadian Industrial Safety Association (CISA), Ontario, Canada, World Safety Organization (WSO), Manila, International Occupational Safety and Health Information Center, Switzerland. The main objectives of factory act are to provide protection to the workers employed in factories against industrial hazards and to ensure safe and better working conditions. The general provisions in the factory act with regard to the fencing of machinery and other safety measures are summarized below: Every moving part of a prime mover, fly-wheels connected to prime movers, head and tail races of all water-wheels and turbines, any portion of bar stock that projects beyond the head stock of lathe of in each factory shall be fenced securely by safety guards of robust construction and these guards will always be kept in position while the part or machinery is in operation or motion:
(i) All parts of an electric motor, generator and converter, all parts of transmission machinery, all dangerous parts of any other machinery should be securely fenced by means of safety guards unless they are located in such positions and/or their construction ensures adequate safety for every person employed in the factory.
(ii) In case it becomes necessary to examine any part or parts of machinery while being in motion only a specially trained adult worker should be deputed for the work.
(iii) Precautions against dangerous fumes.
Adequate protection should always be provided against dangerous fume. No person be allowed to enter confined spaces, chamber, tanks etc. in which dangerous fumes are likely to be present. If a manufacturing process is producing dust, fumes, or vapors, sufficient measures should always be taken to prevent inhalation of the same by industrial personnel.