Fake but verified BlueTick accounts of influencers and brands are now in chaos after Twitter announced payment of verification fees.
On Thursday, fake 'verified' accounts in the names of politicians, celebrities, big organizations and businesses started appearing on the social platform.
Twitter suspended many of them, but the company's rapidly changing efforts to address the problem of fake accounts have added to the confusion of users.
Experts previously warned that fraudsters could take advantage of the new Twitter Blue subscription service announced by new Twitter chief Elon Musk, which will require users to pay $7.99 a month for BlueTick. People will lose faith in this platform.
The extent of the problem of new fake Blue Tick accounts has been exposed after the feature launched on Wednesday.
Accounts of major brands such as Apple, Nintendo, BP and Chiquita's Blue Tick version were suspended. In addition, fake accounts of high-profile figures such as Meta Chief Mark Zuckerberg, current and former US Presidents Joe Biden, Donald Trump and George W. Bush and former UK Prime Minister Tony Blair were also removed.
An account in the name of Kerry Lake, the Republican candidate for governor of Arizona, once tweeted that she was endorsing her Democratic opponent, despite the fact that votes were still being counted in the tight race. Twitter removed the tweet and the fake account several hours later.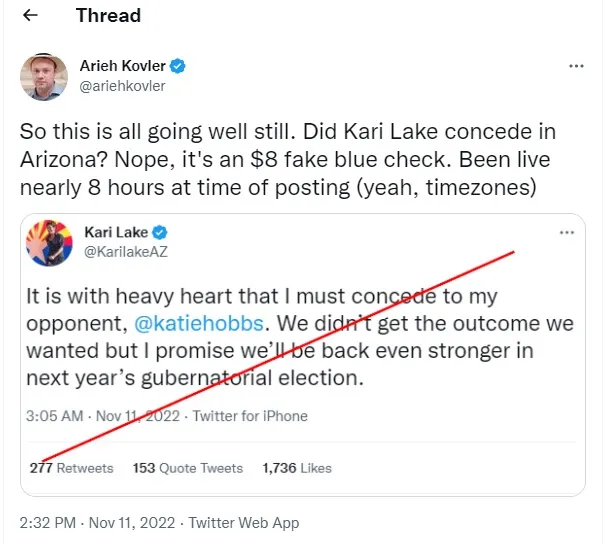 A fake Tesla account, owned by Elon Musk, made a joke about 9/11. It also revealed that Elon Musk also had a fake account.
One of the most troubling accounts was a fake account from the US pharmaceutical company Eli Lilly which announced that 'Insulin is now free'.
You might like: Apple introduced the $99 HomePad Mini with better sound and Siri
The company had to state that this was a fake announcement.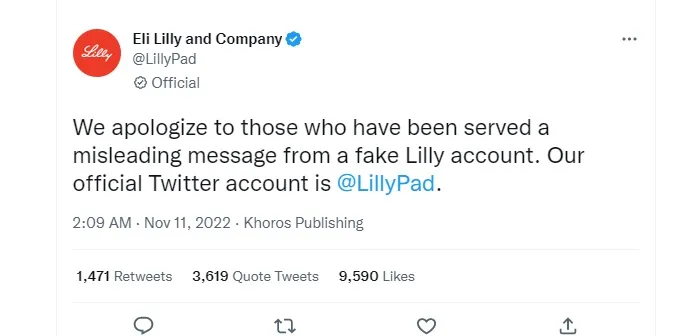 Getting a Blue Tick by paying Qom is also being misused by conspiracy-minded and far-right activists.
The BBC has found that at least three influencers of the American political movement QAnon have fake accounts that have bought blue ticks on Twitter.
Far-right activists Jason Kessler and Richard Spencer, who organized the 2017 Unite the Right rally in Charlottesville, have both bought Blue Ticks.
Also Read: Microsoft introduced Windows 11 with Android apps support
Twitter previously removed verification badges from Kessler and Spencer's accounts after the violent rally five years ago.
Researchers have also seen multiple fake persona accounts with blue ticks purchased using AI-generated images. This is a concern because such unauthenticated accounts are routinely used in influence operations. These accounts are sometimes used by governments of other countries to influence political events in a country.
Twitter has suspended many fake blue-tick accounts, but it is still struggling with new fake accounts.
New gray 'Official' badges were added below the handles of some high-profile accounts, but Elon Musk quickly removed those as well.
However, on Friday, new gray official badges started appearing again on some Twitter profiles.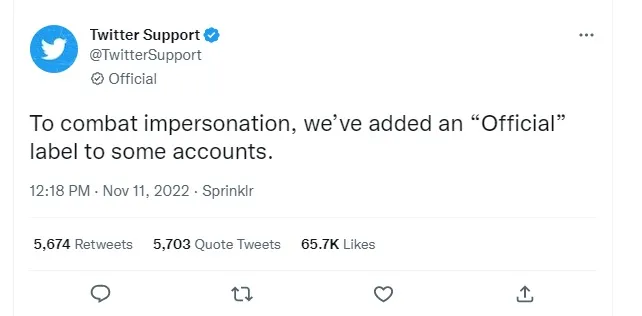 Some US-based users reported that Twitter's Blue subscription system is no longer available to them.
Elon Musk previously said that verified parody accounts of high-profile Twitter users would have to make it clear on their own that they are not real.
He later announced that the word parody would also need to be added to account names, adding that "it's not okay to trick people."
Source: BBC URDU